The following passages were published in the book "Tributes to a Legendary Soprano", a compilation of personal reflections on the artistry of Virginia Zeani.  The book was presented to the soprano on the occasion of her 85th birthday.
Steven Smith
____________________________________________________________________________________________________

It was Traviata.  February, 1965.  Montreal, Canada.  You were just so ravishingly beautiful.  That would have been enough.  But, unbelievably, we the audience were to be blessed with your equally exquisite voice.  I can still feel the throb of your heart in that perfect vibrato.  You enveloped us in your warm, liquid, even tone and drew us in to experience your joy and your heartbreak.  Indescribable really.  It's as if it were yesterday.  Your Violetta is still the most beautiful I have ever seen or heard.
Teresa Stratas, Soprano
Great sopranos should be neither solely great singers nor solely great actresses.  Great sopranos should be great singing actresses and in Virginia Zeani I believe we have one of the greatest of this century.
Steven Smith, Canada
Only rarely in a lifetime does one discover a voice with such personality that it lives and exists in the mind beyond a mere recording or performance.  It haunts the listener to such an extent that no other singer will do.  Virginia Zeani has such a voice.  Who else has the warmth and humanity of Zeani?  Such colour, vibrancy and expression?  Listening to Zeani now is like hearing a person whose whole being exists to communicate story and emotion through music in the most natural and sincere way imaginable.  In short, Zeani has an unforgettable voice.
James Mayhew, United Kingdom
We can never forget the extraordinary thrill of hearing you for the first time in the fifties – 1957 if memory serves.  Your Lucia, your Violetta, your Donna Elvira are engraved in our hearts.  You have no idea the profound impression you made on us.  We had never heard in the flesh a bel canto soprano so opulent, so lush, and so velvety.  A voice with a great technique, an incredible extension and full of emotion.
Dame Joan Sutherland & Maestro Richard Bonynge
The beauty and artistry of Virginia Zeani are legendary and in our world of easy personality, her humanity, kindness and modesty are always talked about and revered by her colleagues and friends alike and her legacy is incomparable.
Nelly Miricioiu, Soprano
Extraordinary.  It's an over-used word in our superlative-infatuated age, but its true meaning describes in a single word something that is truly exceptional, rare, even phenomenal.  Extraordinary is the word that describes Virginia Zeani.  She is extraordinary in beauty, talent, and spirit.
Leslie M. Ritch, United States of America
As a life-long opera lover, I feel that the most important qualities that a great singer must possess are an individual color, expression, and vivid use of the text.  I know of no other artist who possesses (and shared) all of these gifts to such a high degree as the great and unique Virginia Zeani.
Ken Benson, United States of America
Of all the many fine singers I have heard, Virginia Zeani is without doubt the one I would most wish to hear again.
Yvonne Fuller, United Kingdom
Virginia Zeani was one of the most important sopranos in the world of opera.  I had the great pleasure of making music with her on several occasions in Italy and Canada.  She always gave me the greatest pleasure and I was proud to be included in the circle of friends of both herself and her illustrious husband Nicola Rossi Lemeni.
Zubin Mehta, Conductor
My generation and I adored Virginia Zeani.  She was our idol, and for us developing artists she was a dream living in our young hearts.
Diana Soviero
"In my youth I heard voices that greatly influenced how I interpret my repertoire, how I found the love of the vocal line, and one of those influences was Romanian soprano Virginia Zeani.  She was not only an incredible vocal artist and an amazing singing actress but she had such a unique and interesting voice, and the skill and instinct to manipulate it for tremendous effect"
Eugenia Moldoveanu, Soprano
Today, a splendid technique and a good voice, are not enough to guarantee a successful career.  So much more is needed and Virginia has a unique grasp of those elusive, intangible qualities and it's from her generosity alone, that such remarkable and rare attributes are being shared and given with such total freedom to young students from all around the world.  Who could not love this woman, not just for the superb standard of artistry she has displayed in her own singing career, but for making sure that those standards are secure for us all in the future.
Roger Beaumont, New Zealand
Additional tribute:
Virginia Zeani is a beacon to the generations who follow her, not only lighting the way for us to become better singers and musicians, but showing us, by advice and example, how to be better people. Our love for her is profound. She is a true original, a true artist and an immensely loving mentor to so many. She has changed our world.
Mark Nicolson,  Tenor

A concert review of one of her last performances, in New Jersey in 1981,  by Robert Connelly for Opera magazine:
"Virginia Zeani flew in from the University of Indiana, where she and her husband are currently teaching, for a rare United States appearance.  A major artist, too little known outside Italy, Madame Zeani is gifted with great personal beauty, a ravishing tone quality and the virtually extinct ability to stir an audience to a frenzy.  The voice has aged well, the coloratura notes of yesterday having been replaced by a voluptuous lower register, making her an ideal interpreter of the late romantic Verismo repertory.  Now that most of her contemporaries from the 1950s have disappeared from the scene, her artistry seems more precious than ever.  Her singing of arias from Aida, Mefistofele and Manon Lescaut, with a judicious, yet exciting use of chest tone, galvanised the audience."

VIRGINIA ZEANI IN PERFORMANCE
Reminiscences from the gallery in Covent Garden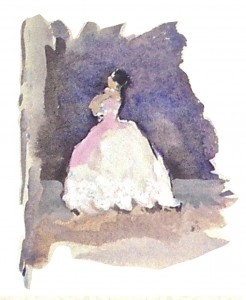 I was first enchanted by opera as a schoolgirl, when I saw a live performance of Carmen at Covent Garden.  Immediately I sought out all the old recordings I could find and my most admired sopranos were Lotte Lehmann, Luisa Tetrazzini, Rosa Ponselle and Kirsten Flagstad.  Just like the great painters and the great composers I naively thought they must all be dead, or at least retired, and was delighted to learn that, though no longer performing, three of them were still very much alive.
One evening in May 1957 the BBC broadcast a performance of the then rarely heard opera Lucia di Lammermoor, given by a visiting Italian opera company in London's Stoll Theatre.  Over the air came a voice with all the beauty and skill of those great, long past sopranos.  And there was something more, a dark plangent intensity which completely captivated me.  The singer was Virginia Zeani.
At once I bought tickets for Lucia and La Traviata, but it was the end of the season and Zeani had already left the company to return to Italy for her wedding to Nicola Rossi Lemeni.   As a compensation I spent all my pocket money on her first Decca recital and played it right through every day.  Several months later I sent her a fan letter and was delighted to receive photos of her and her husband and new baby son. But I longed to hear her in person.
Another two years passed during which, despite her success, Zeani wasn't invited to sing at Covent Garden.  This was chiefly due to the emergence in similar repertoire of rising star Joan Sutherland. In 1960 Sutherland was to sing Violetta for the first time and, after her Lucia, expectations were high. She managed the first night but was clearly suffering from a cold. The next performance was to be broadcast worldwide by the BBC but Sutherland had to cancel.
At long last Covent Garden turned to Zeani, who flew in from Vienna via Frankfurt to replace her.  She arrived just in time for costume fittings, but not for any rehearsal.  She then walked on stage asking  "Which one is my Alfredo?", and against all the odds the performance was a triumph. The recording of that emergency broadcast of La Traviata is unbelieveably exciting.
As Zeani's debut was only announced on the radio at teatime I couldn't get to the performance and instead listened, spellbound, to the radio.  Next morning I went, record and photographs in hand, to the Savoy Hotel in London and asked her for her autograph. That was the start of a very special friendship which has lasted over fifty years.
Zeani was asked to return to Covent Garden in June 1960 for two specially scheduled performances, and at last I heard her live and met her and Signore Rossi Lemeni.  As to her Traviatas, which I heard in 1960 and again in 1962, they are still vivid in my memory.
She was of course very beautiful, both in her voice and in her person.  In the party scene the guests were irresistibly drawn to her as if to a magnet.  In the quiet moment after everyone has left she remained upstage, looking away, and then slowly turned,  gathering her thoughts in an exquisitely sung "Ah fors' è lui". The tone was full and even and beautifully graduated, but also intense, with that plangent quality, as if full of tears.        As the opera progressed this intensity became more and more heart rending.
The renunciation with Germont Pere, the passionate parting from Alfredo, the humiliation at the party and the lonely death scene are still burned in my memory.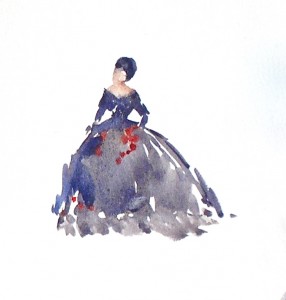 In the final Act she read the letter from Germont not declaiming it but almost crying onto the page.  In the aria her voice became more and more beautiful with the soft high notes resonating round Covent Garden as if one were inside a great bell.  These are the most beautiful sounds I heard from any singer, ever.
Years later I asked her how she achieved such a wonderful effect. She replied she didn't think of making beautiful sounds but thought only of the words and the meaning and the character, and that of course is why her singing is so moving.
After more performances of La Traviata in 1962, Covent Garden asked her to sing Tosca but she was unavailable and she never sang in London again.  I last heard her on stage as a fine Aida in Geneva in 1969.  Again this was beautifully sung with "O patria mia" being particularly memorable.
For some years our paths diverged until in 1990 we re-established contact and I went to see her in Bloomington, where she had become the most sought after Professor of Voice in the Music Faculty of Indiana University. Having heard her teach, and even enjoying a few lessons with her myself, I know her to be a truly wonderful teacher.  She is full of enthusiasm and, whilst meticulous and discriminating, she is always encouraging and never puts her students down.  She demonstrates continually, generously imparting the remarkable skills which maintained her glorious voice unblemished throughout a long and arduous career.
Virginia Zeani made few commercial recordings but through the internet, and in particular YouTube, her many private recordings have become available.  They reveal a true  "Assoluta", one of those rare sopranos capable of singing almost everything.  She can be heard in roles as diverse as the coloratura Amina in La Sonnambula,  the spinto Elisabetta in "Don Carlos",  the Wagnerian Senta in "The Flying Dutchman", the dramatic modern Magda in "The Consul", and all three diverse soprano roles on a single night in "The Tales of Hoffmann" –  and so many more. The recordings are nearly all live and demonstrate the consistent vocal and dramatic intensity which made her such a thrilling performer.  Through them her work has reached a new audience and her fame is spreading once more.  Romania, in particular, has woken up to her outstanding talent and achievements and she has been celebrated with awards and a festival tribute.
Having heard so many of her justly admired contemporaries in their prime, including Sutherland, De los Angeles, Price, Callas, Crespin, Jurinac, Schwarzkopf and Nilsson,  I can truthfully say she was every bit their equal and  I am glad she is now rightly recognised as  one of the greatest singers of the twentieth century.
Of all the many fine singers  I heard she is without doubt the one I would most wish to hear again.
Yvonne Fuller
Virginia Zeani's Emergency Covent Garden Debut January 1960 was witnessed by YouTube enthusiast TedinNY  who wrote this account after finding the broadcast posted on YouTube  This is their comment
I just came across this by accident. I was THERE! 
It was a once in a lifetime experience. I had seen Sutherland in this role the week before and wanted to see her again. Along with 99% of those present, I was bitterly disappointed to see that she was indisposed and had been replaced on short (or no) notice by a soprano that very few in the audience had probably heard of at that time.
So, grudgingly, we sat down to listen to a performance that we expected little of, little imagining that we were going to get the surprise of our lives. Zeani knocked our socks off, as we would have said at the time.
Sutherland had a magnificent voice and technique, everyone knows that. But as an actress, at that point in her career, she was literally laughable. I remember, for example, that in the Sempre Libera, when she hears Alfredo's offstage voice, she had been told to drop the glass in her hand (presumably to show emotion). Well yes. She dropped it dutifully, as directed, but showing no emotion whatsoever. What a waste of a perfectly good glass. (Titters in the audience.) I don't mean to be disrespectful to the great Dame Joan. I admire her as much as the next opera fan. But compare her diction and temperament to this performance and you'll have to agree. It's not blasphemy – after all she was La Stupenda, not La Divina.
Zeani, on the other hand, was a gripping actress – alla Callas – with fiery temperament and able to transmit every facet of the role convincingly, besides being a very beautiful woman. By the end of the 1st act, we knew we were in for a treat and were present at a historical performance.
I imagine that everyone present, like me, has been a Zeani fan ever since.
I wrote the above before actually listening to most of the performance, and now have a few extra observations.
The English were, at that time, famously loath to vent their emotions and I believe that Zeani's incredible performance, which stunned the audience, would have been impossible if there had been a rehearsal. The powers that be (were?) would have told her to lower the heat several notches, as such a display was inappropriate for a British public.  Zeani was at a higher level of performance than her colleagues, which made her stand out even more.
TedinNY
____________________________________________________________
In an unmissable interview Virginia Zeani talks about working with Francis Poulenc on the world premiere of The Carmelites in which she created the role of Blanche, and how the experience changed her life.
AWARDS AND HONOURS
bestowed upon Virginia Zeani during her performing career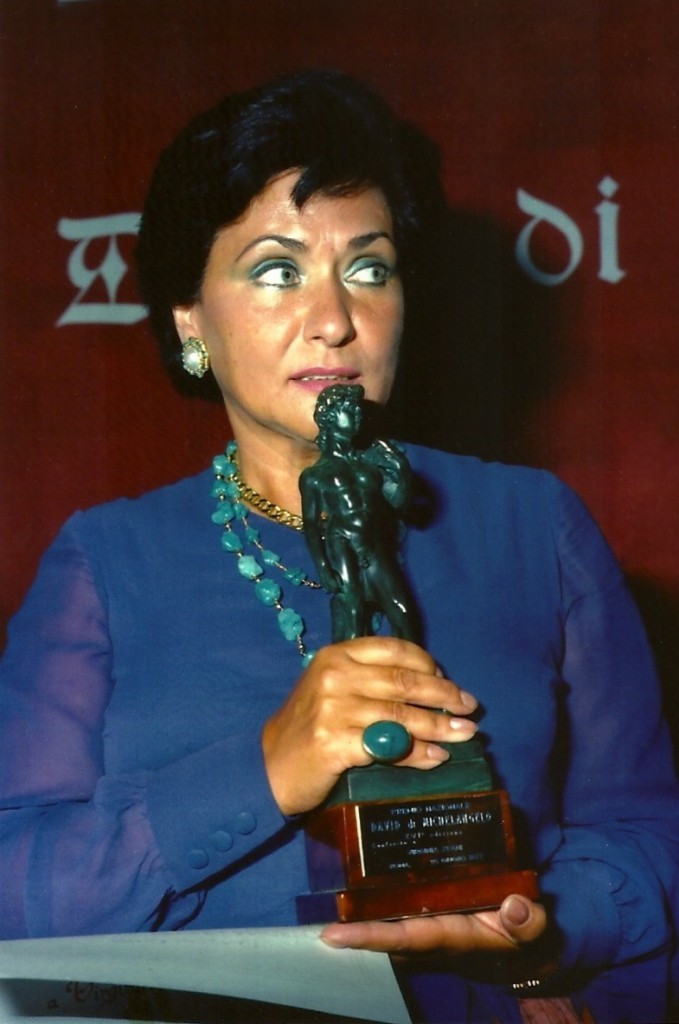 Premio Nazionale Diapason 1965 awarded only twice in 30 years

1950     GOLD MEDAL FOR ARTISTIC MERIT, EGYPT  presented by King Farouk
1961     COMMENDATORE  DELLA  REPUBLICA  ITALIANA
1961     LA RIVISTA ED IL K2 – Con admirazione offrono Piacenza
1961     ARENA D'ORO – Signora della Scena – Arena Verona – per referendum bandito    tra il publico areniano dalla "RIVISTA"
1962     IL SAGITTARIO D'ORO  International prize for arts, music and cinema
1962      LA RIVISTA A ROYAL – Prima Donna del Teatro Lirico – Castel S. Giovanni
1963     PREMIO INTERNAZIONALE "LUIGI ILLICA", Castell' Arquato
1963     GOLD MEDAL – Teatre del Liceu – Opera House of Barcelona
1963     MASCHERE D'ARGENTO  given to the best artists in opera and cinema
1964     GOLD MEDAL, ROMA CAMPIDOGLIO  For the best singer in Rome, with Corelli
1965     PREMIO NAZIONALE DIAPASON  given only twice in thirty years
1969     GLI  ALBERGATORI ROMANI  In gratitude from the Hoteliers of Rome
1969     MASCHERE D'ARGENTO  for the finest opera and cinema artists
1971     TIBERIAN ACADEMY MEMBERSHIP – Awarded entry to Tiberian Academy
1971      VELCA D'ORO – Premio Nazionale Leader del Teatro Assegnata – Telese Terme Teatro del Parco
1972     IL CONFALONE D'ORO   Capri
1973     LA VELCA D'ORO – for the most popular performer
1973     GOLD MEDAL OF ITALIAN AGMA – given to the 25 greatest performers                           .             with  careers of at least 25 years and given only once after World War ll
1975     PREMIO VERDI  for over 500 performances in La Traviata
1977     PREMIO NAZIONALE "DAVID DI MICHELANGELO" – Roma XVI-Edizione – Presented by Maria Caniglia
1982     OMAGGIO A GIUSEPPE VERDI – for interpretations of Verdi operas
1982     IL SAGITTARIO D'ORO  international prize for arts. music and cinema
1986     PREMIO SANREMO MUSICA CLASSIC INTERNATIONAL – Una Vita per il Canto – Comune di Sanremo
1988     AMICI DELL'OPERA DI PISTOIA – Agli illustri cantanti Virginia Zeani e Nicola Rossi Lemeni – il segno di ammirazione per la loro luminosa arie vocale
1989     TARGA D'ORO – Omaggio a Maria Callas – Roma
1992     PREMIO PUCCINI 1992 – Award from Comune di Viareggio – Torre del Lago
1994     LICIA ALBANESE – PUCCINI FOUNDATION BUTTERFLY AWARD – for female interpreters of opera
1994     INDIANA UNIVERSITY SCHOOL OF MUSIC – Named Distinguished Professor of Voice – Awarded by the President of Indiana University for her success with many students during her teaching career at the University – 1980 to 2004
1998     GOLD MEDAL – for 50 years' career
1999     VIOTTI D'ORO – The Benvenuto International Club of Vercelli
2000    ORDINUL SERVICIUL CREDINCIOS COMANDOR – Award from President of Romania
2000     ACADEMIA ARTIS MUSICAE NAPOCENSIS – Doctorem Honoris Causa – Award from the University of Cluj-Napoca
2000     MUSICALIUM STUDORIUM UNIVERSITATIS BUCHARESTIENSIS – Doctorem Honoris Causa – Award from the University of Bucharest
2000     HOMENAGEIAM – A la Opera Sao Paolo o Theatro Municipal – per la brilliante carreira operistica
2002     KEY TO THE CITY – Honary award from the Mayor of the city of Sarasota
2005     AMICI DELLA MUSICA ALCAMO – Vissi d'Arte Award
2010     CETATEAN DE ONOARE – Primaria Municipiul – Freedom of the city of Cluj-Napoca, Romania
2010     MARCELLO GIORDANI FOUNDATION – Teacher of the year award
2010      CLASSICAL SINGING TEACHER OF THE YEAR – Awarded by the New York-based magazine "The Classical Singer"
2011      NIHIL SINE DEO – Highest award given by King Mihai of Romania
2011      PROFESSOR "HONORIS CAUSA" – University "Babes Boliay" – Cluj-Napoca
2012      IL CIRCOLO – WEST PALM BEACH – Woman of the Year for 2012
2012      INDIANA UNIVERSITY – PRESIDENT'S MEDAL – For exemplary contributions to teaching
2013      KEY TO THE CITY – Proclamation granting Virginia Zeani the "Key to the City" of Vero Beach, Florida for support and contributions to Vero Beach Opera and the Classical Arts
2015      GALA PREMILOR OPERELOR NATIONALE ROMANIA 2014-2015 – Iasi
2015      OPERA NATIONALA BUCURESTI – Diploma la aniversarea a 90 de ani
2016      ORDINUL COROANA ROMANIEI IN GRAD DE COMANDOR – Award from the King of Romania
2016      ORDINUL "STEAUA ROMANIEI" IN GRAD DE CAVALER – President's medal for lifetime achievement in opera & teaching
Three times she was nominated Doctor Honoris Causa, once in Bucarest, and twice from two different universities of Cluj  ( Romania )
2016      LIFETIME ACHIEVEMENT AWARD – Awarded at the 54th NATS National Conference in Chicago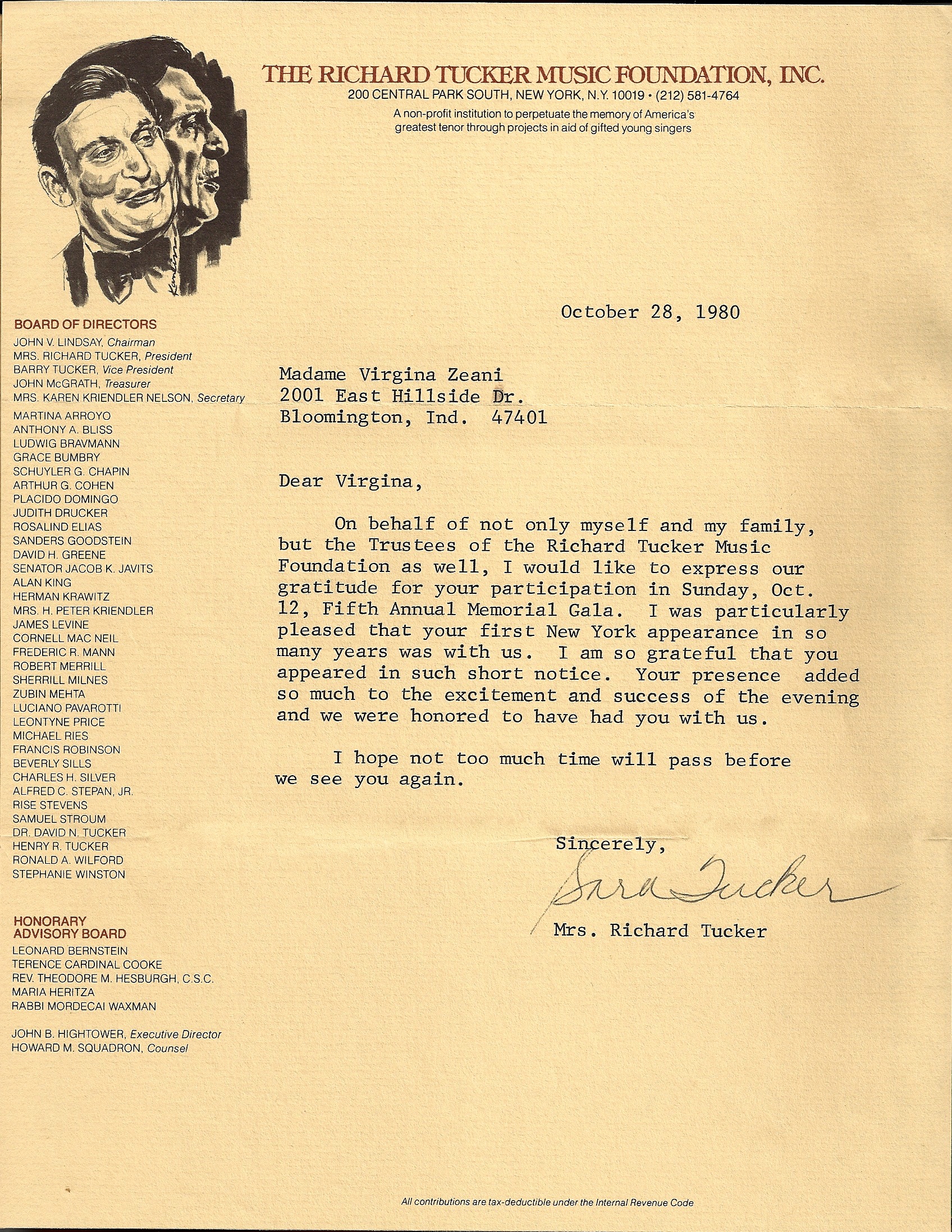 When Virginia Zeani died in March 2023 several biographies appeared in papers in the USA.  One was sent to The Times in London and this persuaded them to publish a full page and delightfully detailed obituary
https://www.thetimes.co.uk/article/virginia-zeani-obituary-52d6fdp8k